Use this book to effectively cut, fold, paste and other manual scrapbooking exercises, and let the children use the finished works to carry out happy games, training hands dexterity and cultivating creativity.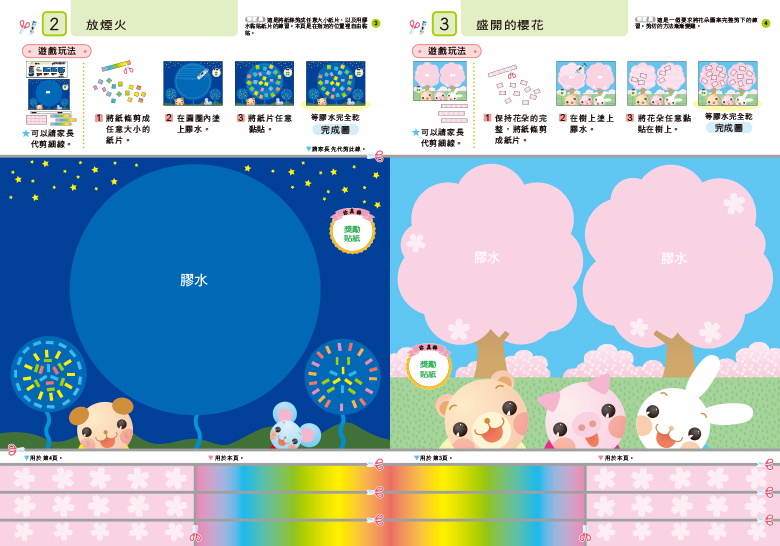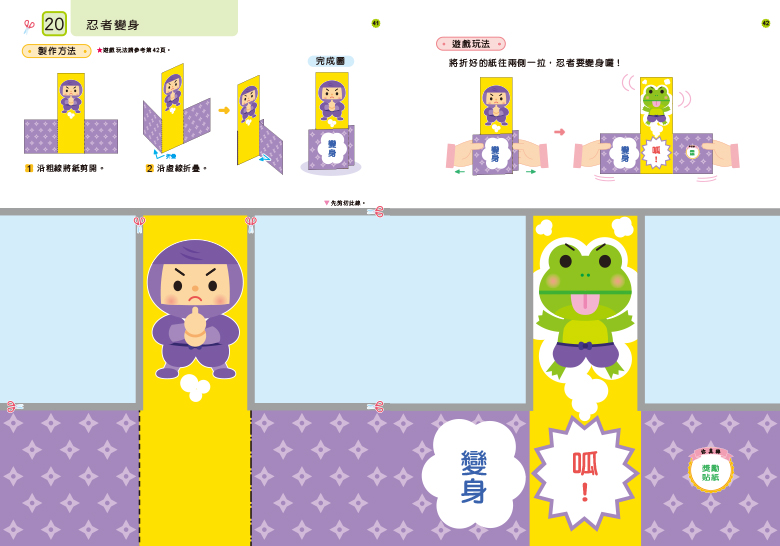 ■ Product Description
The
sticker page has reward stickers. The reward system makes children more willing to learn. Being able to get a moderate degree will definitely make the child's mental development more sound. And stickers with manual exercises, so that manual process more interesting!

second book in this series, compared to the first book has many more advanced manual action, such as cut adjacent thin lines, will The cut paper is folded in three dimensions and there are simple puzzles! The content is more diverse and vivid. In addition to developing creativity, it can lay a better foundation for children's space concept.
■ Product Features
The
New Mind Development Series is designed to allow children to develop their abilities in a variety of happy and repetitive exercises.

1. DIY fun experience:
Hand park this series is to let children experience the fun of DIY, learn to use scissors, glue when there are many that do, should not do things that make Children know more than just games, they need to take everything seriously.

2. progressively grow:
volumes edited by age, can choose their own difficulty, step by step with the kids grow up. Of course, you can also go ahead and try out the exercise books that are more difficult than your child's age. If you have challenges, you can make progress, but please be careful that parents should accompany scissors and other equipment.

3. exercise hand-eye coordination:
when using scissors, children need to learn to be optimistic about the cut place, and then holding scissors to finish the paper-cut action, cooperation and coordination with hand-eye, with the ability to write the future There is a great relationship, you can grow and learn in play!
■ expert/celebrity recommendation; winning record
total sales of more than 39 million copies, keen psychoanalysis and new theory of early childhood intellectual development have been well received.
■Contents/Gifts
1 reward sticker, 1 game card
■ Author introduction
Chiba University, Japan Professor Emeritus Akira Tago

GAKKEN WORKBOOKS series is a famous Japanese child psychologist, 30 years of theoretical studies of early child education expert Professor AKIRA TAGO integration make
total sales over 3900 Thousands of volumes, keen psychological analysis and new theory of early childhood intellectual development have been well received.
■ Product Specifications
[Windmill] Manual Park 3 years old and more than Huhui's NEW Mind Development
Publisher: Windmill Books Publishing Co.
Author: Akira Tago
appropriate reading age: 2 years old
bar code: 4714426402114
size: 21 * 29.4cm
Pages: 64 pages, color, paperback
Publication time: June 2016