Soft touch makes your baby calm and concentrate!
bells, rustling, snoring - a sound cloth book to stimulate the baby's hearing development.

canvas-Develop your baby's finger dexterity by touching.

Operational - turn over, small manual move!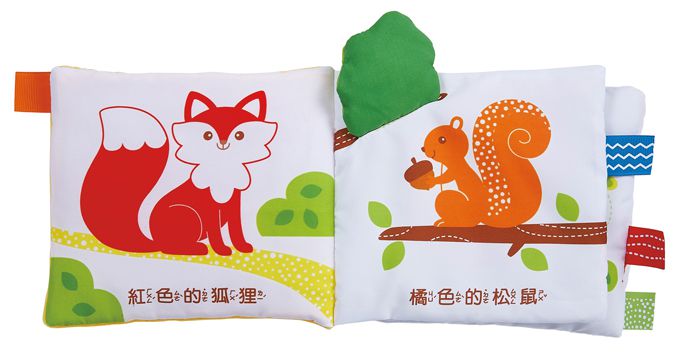 ■ Product Features
Soft cloth - comfortable and soft touch, enhance your baby's sense of safety, foster healthy personality development and enhance interpersonal relationships.

Color beads - bright colors attract the baby's curiosity and attention.

Fun inside page - cute pictures to learn numbers and count!

1. Made of high-quality fabric material, it is more convenient to clean:
It is not easy to fade and not easy to deform, so don't worry about soiling. Choose high quality cloth material, wipe it with a damp cloth, and give your baby a clean at any time. Learning space.

2. The theme of life, let children easily understand the big world:
From the most familiar objects of children, let children start from life, combine learning and life with clever combination, and then inspire children to explore The curiosity of the world.

3. Bright colors can help the growing baby's vision:
The bright colors not only attract the children's eyes, but also match the interesting content to stimulate the baby's perception, full of colorful patterns. Can effectively stimulate your baby's vision.

4. It can be smashed, shaken, pinched, pressed, turned, and the rich and varied design makes the baby's little hand more dexterous:
It can be smashed, shaken, pinched, pressed, and the multi-design makes the baby learn and operate. Cloth is a cute toy that can accompany your child to grow up.

5. A fun book that allows parents to play together, and draw closer to the little baby:
Designed according to the baby's cognitive ability, there is no fixed game and reading method, so that the baby can find exclusive I can learn and play with my own best, and my parents can make each other closer together during the fun.

6. Through the EU, ST safety inspection, use peace of mind.
Improve the safe and healthy game learning through the excellent cloth book of EU and ST safety inspection.
■ Product Features
1. Ringtones help children develop their hearing.

2. Color patterns attract children's attention and promote children's development of visual ability.

3. Touch the knowledge of cloth books to promote the development of brain power and sensory integration.
■ Product Specifications
[Windmill] Color Zoo - Baby's Tactile Cognitive Book
Publisher: Windmill Books Publishing Co.
Author: Windmill editors
appropriate reading Age: 3 months
bar code: 4714426804208
size: 21 * 16 cm
Pages : 6 pages
Published: February 2016